Hosting a Beer Tasting Party at Home
Affiliate disclosure: Sweet Humble Home is a participant in Amazon's affiliate program. As an Amazon Associate I earn from qualifying purchases. This is no extra cost to readers.
Beer has come a long way. It's no longer about grabbing just any beer that's cold and sharing it with your best buds. Drinking craft beer, and beer tasting in itself has evolved into an experience. Hosting a Beer Tasting Party at Home is a great way to introduce yourself and your friends to different kinds of beers, and to learn a little more about where they come from.
Planning a Beer Tasting Party
The best part about hosting a beer tasting party at home is that you can literally plan it for any time of the year. Think about this – there are so many seasonal craft beers, and you can pick a season and go for it. That's part of what makes throwing a beer tasting party so much fun. There are subtle differences from other parties you might plan. For one, a tasting party is usually for a smaller crowd. Who you invite need to be friends that enjoy a good brew, so that whittles down your guest list. It's an event that naturally encourages conversation, which is also nice.
TIPS for your guest list:
Keep your guest list small and invite no more than 10 people.
Make sure that the guests you are inviting enjoy beer!
Invitations for your Beer Tasting
I always think it's a nice touch to give out a paper invite. Of course there is absolutely nothing wrong with an online invite, I just like to kick it up a notch sometimes. For a beer tasting party I have come up with something pretty special that I think you'll love. Purchase some of your favorite beer, and use my editable beer label to print out your invitation and adhere it right to the bottle! Tie a bow on top, and you're set to go!
I have also put together some beer tasting party printables that you can use to customize your event. You can access them right here!
Choosing Beer for Your Tasting
There is so much that goes into Craft beer that I couldn't begin to explain. Rely on the experts to learn about carbonation, and the clarity of the beer along with bitterness, etc. Craftbeer.com can give you all of the information that you need to cover you there. I'm here to help you plan your beer tasting party – so I'll stick to the basics.
Here are the four types of beer I'd pick up (note that there are different styles of each type of beer):
Lagers – Choose a lager that tastes great to you. I like a good pilsner, for example. A pilsner is lighter beer that originated in the Czech Republic. It sometimes has a floral aroma, and it's known for a crisp finish.
Stout – a dark beer that usually comes from Ireland or England. To me a stout has a creamy taste. Ones from America can be bitter. Choose one from Ireland and one from America to keep it interesting
Ales – Try a red and a pale ale for variety.
Malts – These are the sweet beers. Adding these to your tasting will allow your guests to pick out fruity notes.
Setting up Your Beer Tasting Table
Anything goes here, and it all depends on your taste and your guests. In my opinion, keeping the feel more masculine is in order. It sets a more serious, yet playful tone. Take a look at these two ideas for how to present the beer.
The first is simply the four different beers by type:
The second is by assigning a number which would match to the notebook or tasting notes each of the tasting party guests have:
I also love this placemat from Target as an option for your beer tasting – it's PERFECT for the occasion! It gives your guests a place for their beer and notes!Beer Tasting Party Decor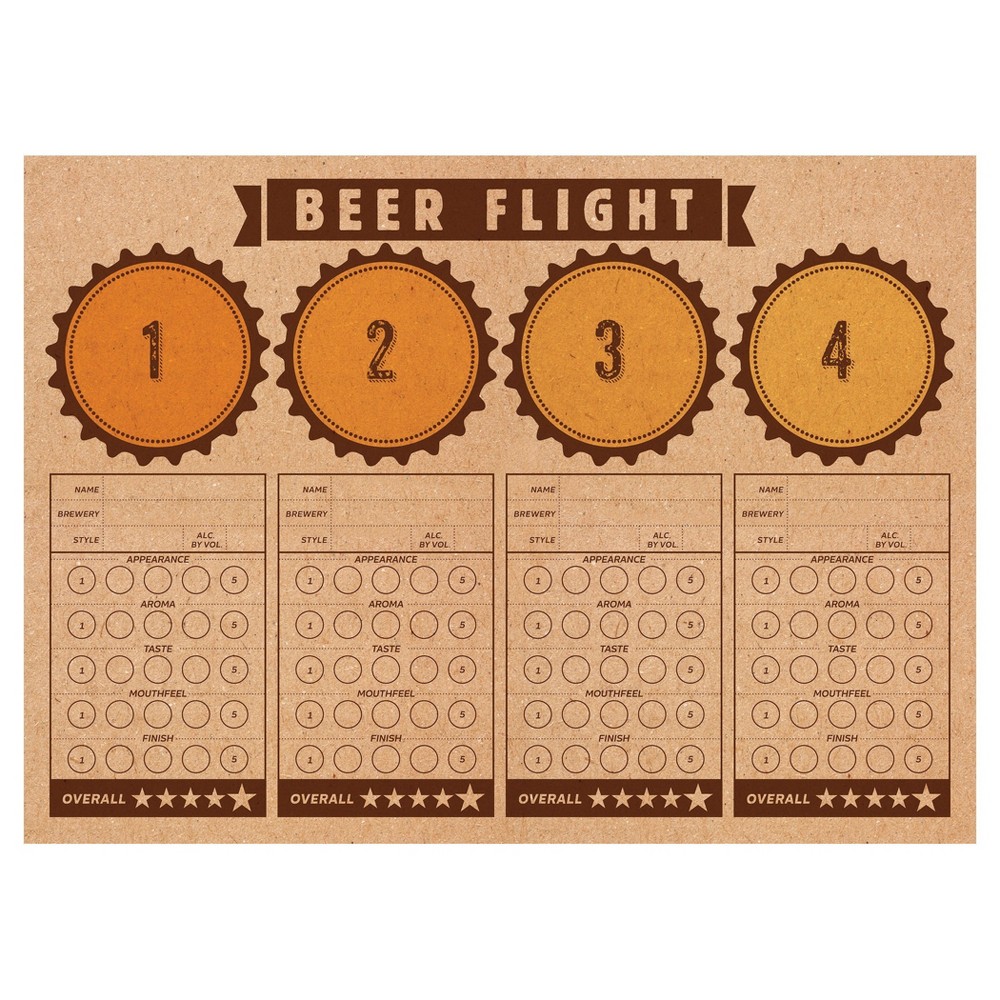 Again, I chose Target for this adorable decor that makes setting up for this party super simple. Take a look at this – also from their Beers & Cheers collection. It has everything you need to make a cute vignette next to your table!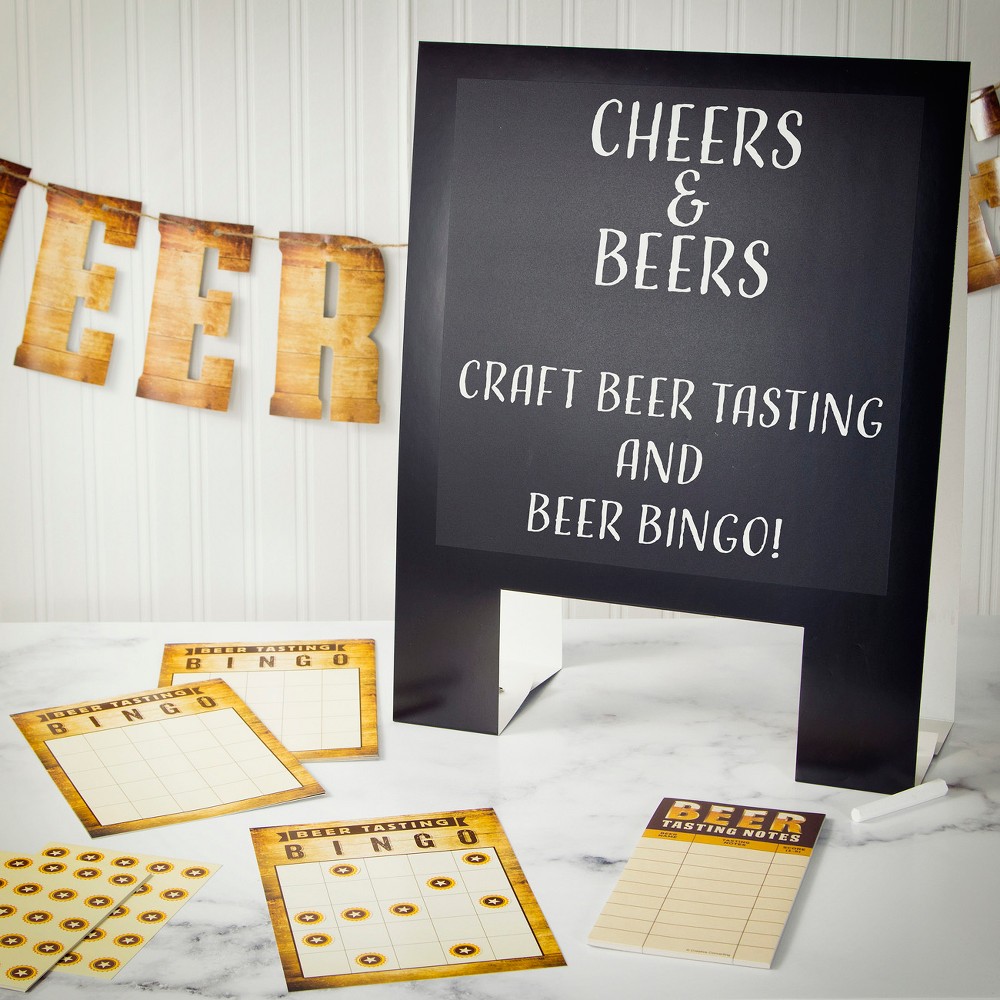 Even better – it has a party game for your beer tasting!
Beer Tasting Menu Ideas
Think about the question: "What's some of the best pub food near me"? What is it that you like about that food? I bet it's easy to eat, a little indulgent, and is pretty filling.
Some of the staples that I have on hand for a beer tasting would be:
Pretzels
Peanuts
Spicy rice crackers
Chips & Dip – Think salsa or queso and tortilla chips or potato chips and onion dip.
Beef jerky – Set it up in mason jars around the table
Popcorn – We make ours fresh on the stove almost every night. Add some freshly shaved parmesan or some wasabi powder to kick it to a new level).
Sliders – I make a roast beef slider on Hawaiian rolls that are to die for.
If you're looking for something even a bit more special for your beer tasting food menu (and let's be honest, who isn't nowadays), try some of these delicious recipes:
Photo Credit: slowthecookdown.com
Crispy Jalapeno Fries are made for sharing! They are a great appetizer and perfect for a game day or party food option. Easy to make and baked in the oven for maximum crunch and less grease.
Photo Credit: www.fabfood4all.co.uk
Roasted Almonds with a chilli and Tamari flavour and just a hint of sweetness. You won't be able to stop eating them!
Photo Credit: foodmeanderings.com
This Sweet Potato Fries and dipping sauce recipe is made with baked, instead of fried, spicy sweet potato fries, with a scrumptious garlic mayo dip. It's the perfect stay at home snack or appetizer and goes great with beer!
Photo Credit: www.chiselandfork.com
Store-bought bread dough, pepperoni and mozzarella cheese rolled up make this one tasty appetizer for any party.
Photo Credit: twohealthykitchens.com
A fun riff on the always-popular baked party sandwiches, these cute Spiral Hawaiian Roll Sliders are easy to make, super adaptable, and so much healthier, too! We've got three different variations for you to try, so you can mix and match your favorites!
Photo Credit: twohealthykitchens.com
Way beyond typical buffalo cauliflower appetizers, this version is piled sky-high with extra flavors. Even better? It's so much healthier and takes just 5 minutes of prep work (with no messy batter)!
Directly from Sweet Humble Home! These nachos are the perfect food for your beer tasting table!
Photo Credit: www.barthbakery.com
All the classic ingredients of antipasto salad encased in a tender crescent dough crust for a delicious, hearty appetizer.
Try this beef slow cooker chili recipe to feed a crowd, use for your next Beer Tasting Party or an easy weeknight dinner with leftovers for the next day! This homemade, slow cooker chili has flavor on every level!
Photo Credit: anyreasonlife.com
Photo Credit: www.sugarandsoul.co
Photo Credit: daisiesandpie.co.uk
Photo Credit: anyreasonlife.com
These low carb salmon patties are so savory and flavorful. Salmon puffs are made with salmon, almond flour, and cream cheese.
Serving the Beer at Your Party
You can go ahead and purchase the different types of beer glasses and mugs you would need for each type of beer you serve – OR you can just check out this awesome beer flight from Target. It's made by Libbey, and I love them. How fantastic an idea is this to complete your beer tasting party at home?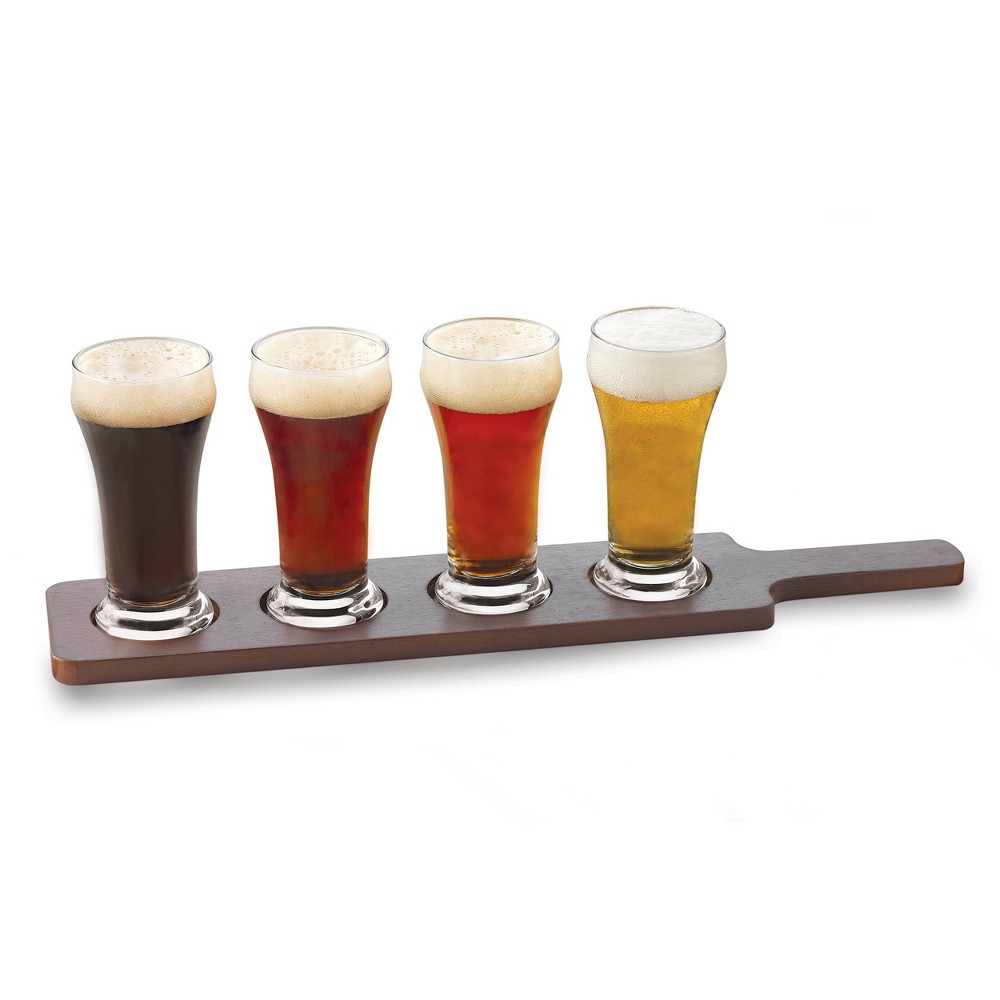 Hosting a beer tasting party at home can be a really fun way to get friends together and do something a little different. Just remember, it's important to have a designated driver and to drink responsibly. It's not a good party without these rules in place!
Cheers!
JJ